Finishing & styling kit
Gives your curls elasticity and natural shine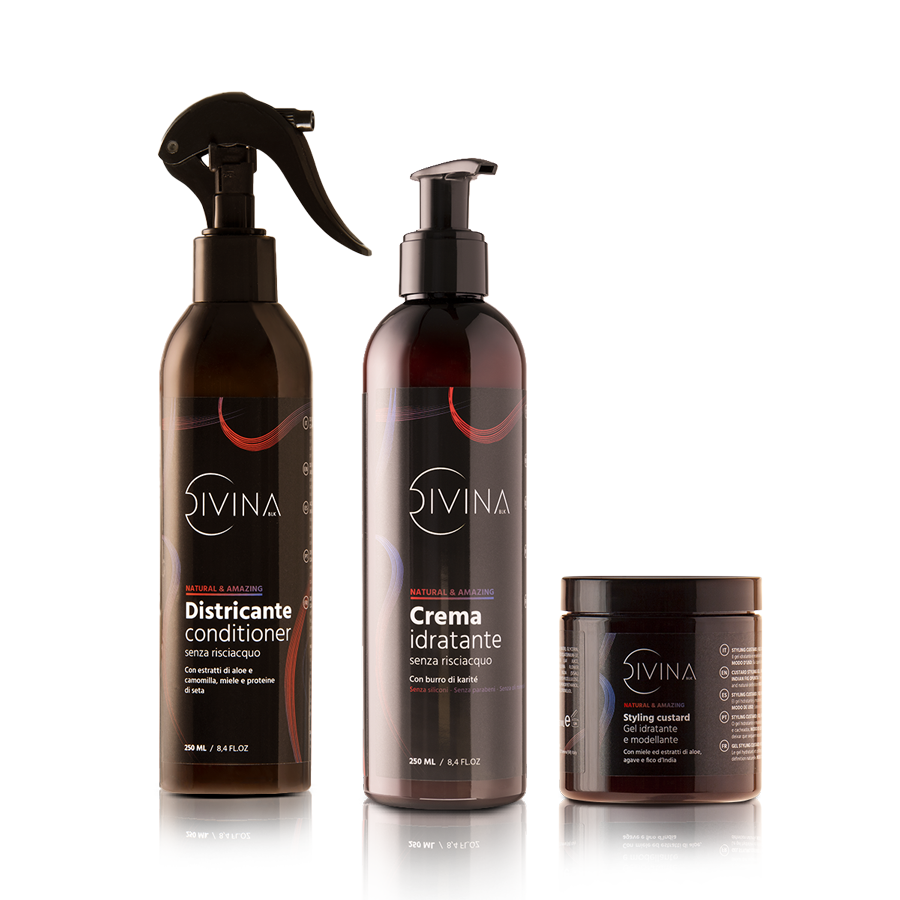 Our Finishing & Styling Kit is specifically created to give the most frizzy and unruly afro and curly hair an elastic and defined styling, keeping hair soft, shiny and easy to comb.

The leave-in cream moisturizes hair, soothing it and giving it softness and health; the styling custard protects your curls and gives them shape and definition, keeping them ultra lightweight with a totally natural-looking effect; the detangling spray moisturizes and restores them at any time of the day, fighting against damages due to daily stress and giving them softness and perfect manageability.
The Finishing & Styling Kit includes:
Leave-In Moisturizing Cream 250ml
Moisturizing and Modeling Styling Custard 250ml
Detangling Leave-In Spray Conditioner 250ml
Apply Leave-In Moisturizing Cream over the entire length of your curls - best if slightly moistened; leave to absorb without rinsing.
Apply the Moisturizing and Modeling Gel, model each curl and dry.
Apply the Detangling Spray Conditioner at regular intervals, gently distributing it with your hands.
In addition to using it after treatment, always bring your Detangling Spray Conditioner with you: applied at regular intervals during the day, or just when you feel like you need it, it protects your curls against damages due to stress and helps you keeping a perfectly soft and natural styling.