Nourishment & volume kit
Moisturizes and deeply nourishes, defined and lightweight styling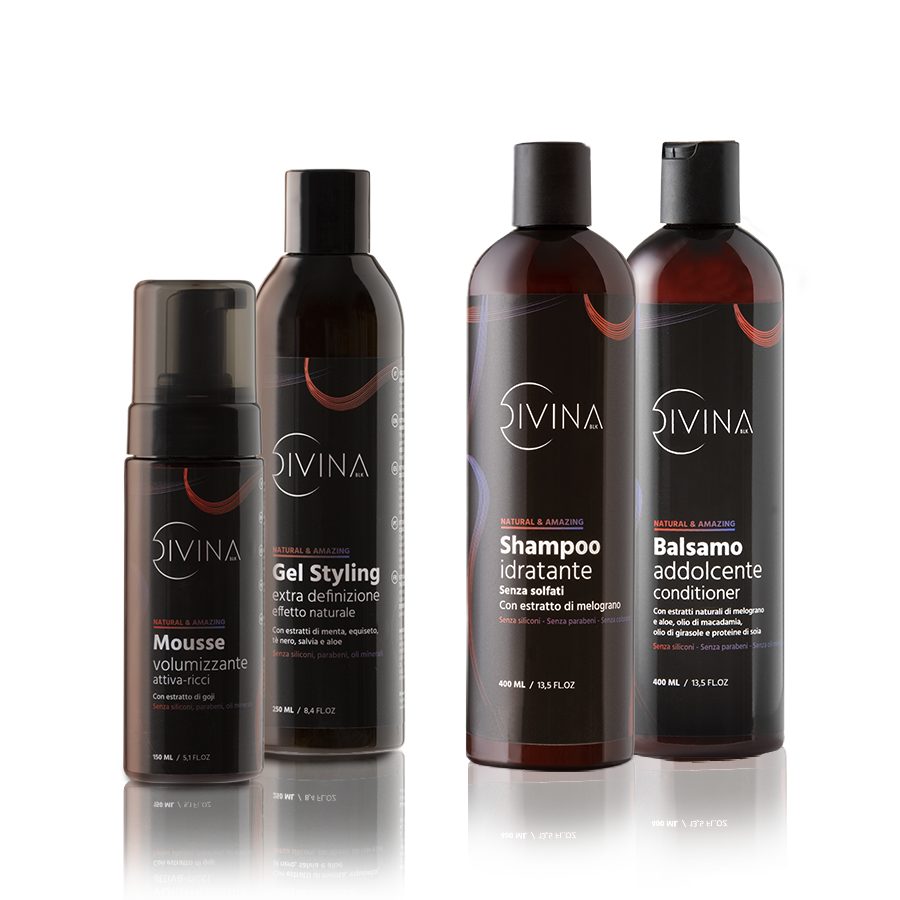 The Nourishment & Volume Kit is specifically realised to give your curls a defined and ultra voluminous styling, protecting them in a completely natural way and keeping them soft, elastic and shiny.

The shampoo gently cleanses hair and skin, respecting their natural pH and restoring hair fibres thanks to its antioxidant properties; the conditioner gently nourishes curls, detangling them and giving them softness and silkiness; the foam gives hair volume and extreme lightness, keeping it moisturized and protecting it against all damages due to aging and stress; the styling gel defines curls, giving them elasticity and intense shine, and keeps skin protected, fresh and moisturized.
The Nourishment & Volume Kit includes:
Moisturizing Shampoo 400ml
Soothing Conditioner 400ml
Curl-Activating Volumising Foam 150ml
Extra Definition Styling Gel 250ml
After getting your hair wet with warm water, apply Moisturizing Shampoo, gently massaging skin and rubbing lengths; rinse well.
Apply Soothing Conditioner, massaging curls from root to tip; leave on for about 5 minutes and rinse well.
Apply Volumising Foam, first on the roots shaking your curls with your fingers, and then over the entire length.
Divide hair into sections, apply Styling Gel shaping each curl, and dry with the diffuser.
Before applying styling products, apply a leave-in moisturizing product, like the Leave-In Moisturizing Cream: it will keep your hair soft and nourished, preserving all its natural health.