Moisturizing & defining complete treatment
7 natural products for a professional result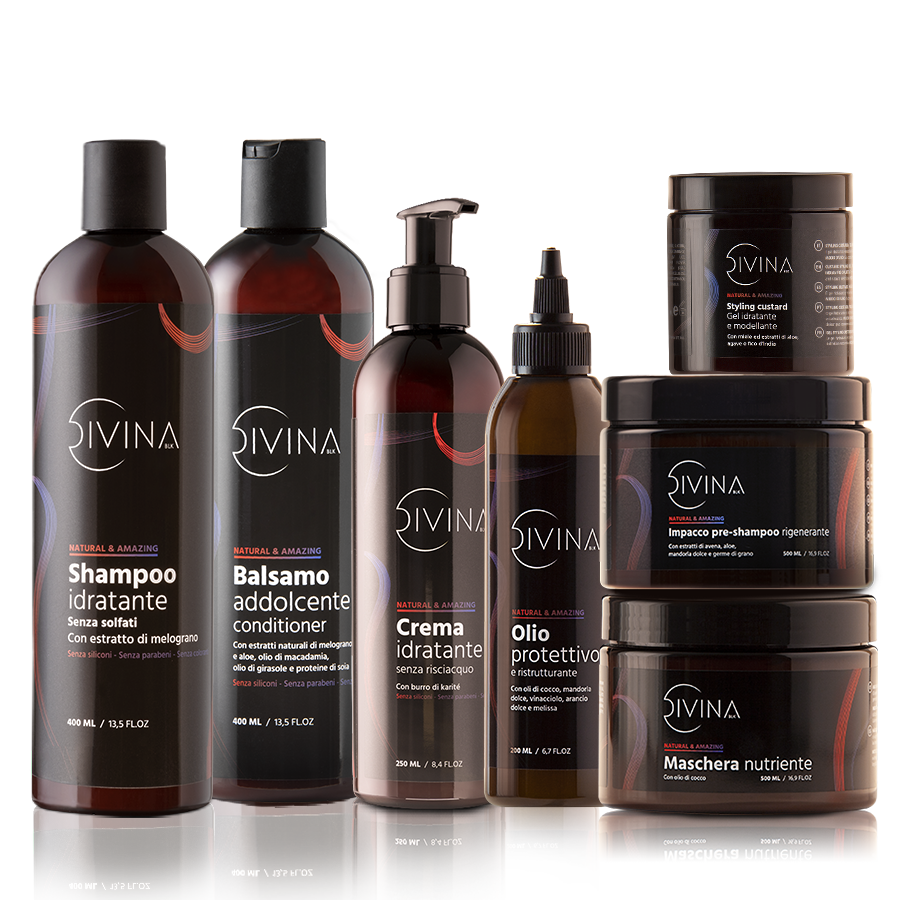 7 products for a complete treatment, highly specific for afro and curly hair care: this Complete Treatment moisturizes and nourishes hair, restoring and reinforcing its fibres, and gently cleanses skin, re-establishing its natural pH and favuoring a natural and healthy hair growth.

Thanks to their natural extracts and precious oils, Divina BLK products not only restore hair, giving it back its natural strength and health and preventing damages and fragility due to stress and premature aging, but it also daily protects curls against harmful enviromental agents - like pollution, humidity, scorching sun and winter cold; in addition, they act directly on the hair body, giving it softness, elasticity and shine, with a totally natural-looking ultra defined styling.
The Moisturizing & Defining Complete Treatment includes:
Restoring Pre-Shampoo Mask 500ml
Moisturizing Shampoo 400ml
Nourishing Mask 500ml
Soothing Conditioner 400ml
Leave-In Moisturizing Cream 250ml
Protective and Restorative Oil 200ml
Moisturizing and Modeling Styling Custard 250ml
After getting your hair wet with warm water, apply a sufficient amount of Restoring Pre-Shampoo Mask over the entire length, leave on for 20-30 minutes and rinse.
Apply Moisturizing Shampoo, gently massaging skin and rubbing lengths; rinse well.
Apply Nourishing Mask, distributing it over the entire length; leave on for 5-10 minutes and rinse.
Apply Soothing Conditioner, massaging curls from root to tip; leave on for about 5 minutes and rinse well.
Apply Leave-In Moisturizing Cream, distributing a sufficient amount on the entire length, and leave to absorb without rinsing.
Apply Protective and Restorative Oil: over the entire length in case of particularly brittle and dry hair, just on tips in case it weighs your hair down.
For your daily styling, apply a sufficient amount of Moisturizing Custard Gel over the entire length, and let it dry.
Perform on your hair a complete treatment once every 3-4 days: this will keep it clean, moisturized and deeply nourished, and will allow your skin to control its natural sebum production, in order not to dry your hair and avoid frizz.