Soothing definition kit
Models your curls and protects them all day long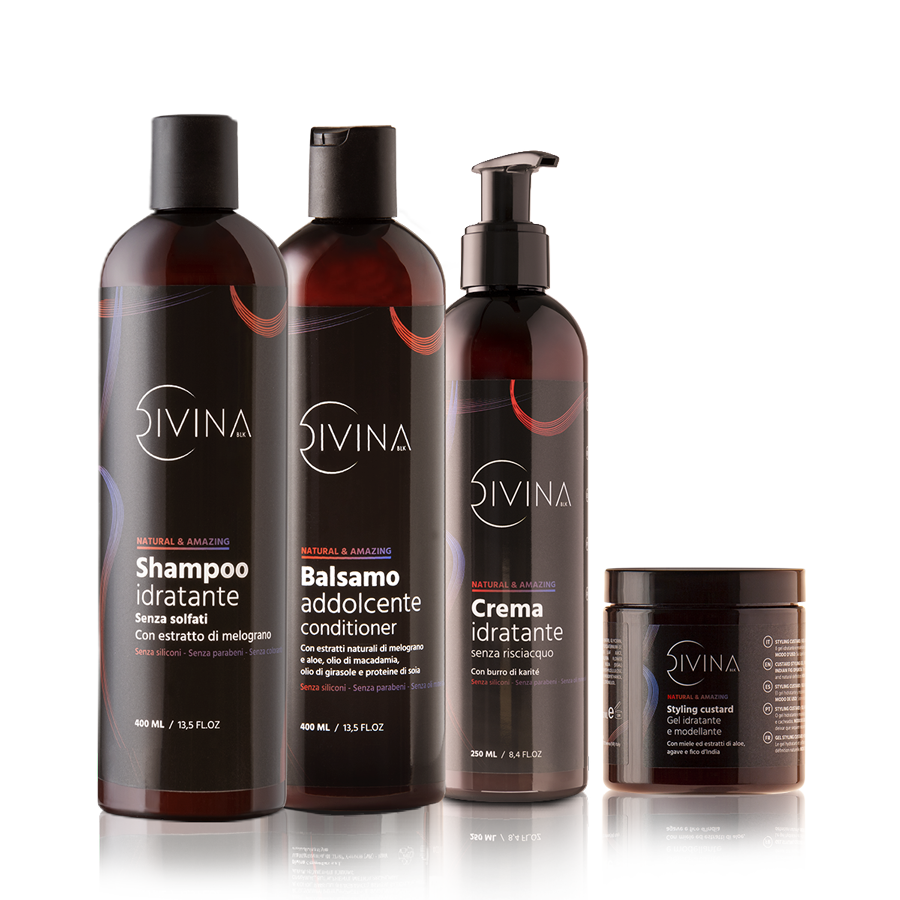 This Soothing Definition Kit is specifically created to give afro and curly hair a defined yet totally natural-looking effect: it moisturizes and deeply nourishes curls, giving them softness, elasticity and shine.

Shampoo gently cleanses hair and skin, respecting their natural pH and and regulating in a completely natural way their production af sebum; the conditioner deeply nourishes hair and creates around each hair a thin protective film, protecting it against harmful enviromental agents and in the meanwhile giving it silkiness, shine and perfect manageability; the leave-in cream holds moisture and nourishment within hair for a long time, keeping it healthy and strong; the styling custard protects curls and gives them a defined and elastic styling, with a totally natural-looking effect.
The Soothing Definition Kit includes:
Moisturizing Shampoo 400ml
Soothing Conditioner 400ml
Leave-In Moisturizing Cream 250ml
Moisturizing and Modeling Styling Custard 250ml
After getting your hair wet with warm water, apply Moisturizing Shampoo, gently massaging skin and rubbing lengths; rinse well.
Apply Soothing Conditioner, massaging curls from root to tip; leave on for about 5 minutes and rinse well.
Apply a sufficient amount of Leave-In Moisturizing Cream over the entire length and dry without rinsing.
Apply on damp hair the Moisturizing and Modeling Gel, accurately model each curl and dry.
The Definition Kit daily keeps your hair defined, elastic and protected; we recommend to often perform on your curls a complete treatment, in order to completely restore and reinvigorate them.